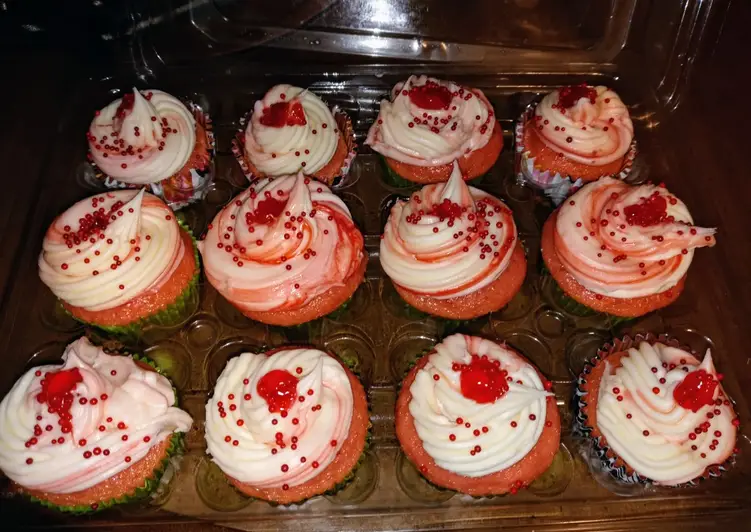 1 box strawberry cake mix

4 eggs

1 cup evaporated milk

1/3 cup vegetable oil

Strawberry glaze

2 (8 oz) packs of softened cream cheese

1/2 stick softened butter

1 box confectioners sugar

2 teaspoons milk
Steps
1. In large bowl, mix cake mix, oil, 1 cup of milk and eggs. Beat for 2 minutes on high with mixer.

2. Preheat oven to 350 and line muffin pan with cupcake liners.

3. Fill cupcake liners 3/4 full and bake for 20 to 30 minutes. Check after 20.

4. Cool cupcakes completely. I

5. In large bowl mix cream cheese and butter until smooth and well combined.

6. Add powdered sugar and mix thoroughly. If to still add milk until thinner but stiff enough to frost cupcakes.

7. With a pastry bag fitted with round cake tip, add strawberry glaze to bag.

8. Insert tip halfway into cooled cupcake and squeeze gently while pulling up.

9. After all cupcakes have been filled, with another pastry bag, fill with cteam cheese frosting.

10. Swirl frosting onto cupcakes. With extra strawberry glaze you can swirl tops with cream cheese like I did.

11. I used red sprinkles on mine but its optional.